Custom Automation Solutions
Product Detail
Product Tags
We create custom integrated automation solutions for low-volume and high-volume manufacturing. As an approved Fanuc supplier, our certified automation engineers can create a sophisticated automated program capable of handling all of your manufacturing needs. Our enclousures are built with high-grade aluminum and ultra-clear acrylic, surrounded by a never-slip metal platform, making them among the safest and efficient work environments available.
Each automation system that we build is capable of housing all the components needed for manufacturing, such as: robotics, fixtures, nests, electrical panels, error-proofing, video surveillance, LED lighting and more. And as with every Inovatech automation system that we build, expansion is always planned for. As your needs grow, your system can easily be modified or expanded to effectuate a seamless manufacturing pipeline.
Our Technologies
Our staff has extensive experience with custom automation
systems solutions and practical knowledge of the latest technologies available.
The automation development process includes:
Design
•System Layout Concept
•Quoting
•Cost and pricing
•Mechanical Design
•Electrical Design
•Bill of Materials
•PLC Programing
•Present final designs for approval to begin build.
Automation Build
•Order parts and begin fabrication process.
•Construct enclosure and platform.
•Install robotics, end-of-arm, fixtures and panels.
•Wire electrical panel and program robots.
Systems
•Rotary dial
•Pallet transfer
•In-line
•Robotics
Technologies
•Vision Systems
•Laser Measurements
•LVDT/LDT
•Servo, Stepper & Linear Motors
•Torque Transducers & Amplifiers
•Touch Screen Displays
•Operator Interfaces
• Data Collection
• PC & PLC Control Systems
• Systems Integration & Interfacing
• Training
• Service
Processes
•Assembly
•Inspection
•Packaging
•Orbital Forming
•Impact Forming
•Ultrasonic Welding
•Resistance Welding
•Staking
•Hot Stamping
•Impact Stamping
•Screw Driving
•Pressure Testing
•Leak Testing
•Electrical Hi Pot Testing
•Soldering
DELIVERY
•Teardown and on-site setup of equipment.
•Calibrate robotics and components.
•Validation and operator training.
Markets Served
•Automotive
•Recreational Vehicles
•Consumer Products
•Industrial
•Medical and Pharmaceutical
•HMI Programming
•Machining & Fabrication
•System Build & Installation
•Technical Manuals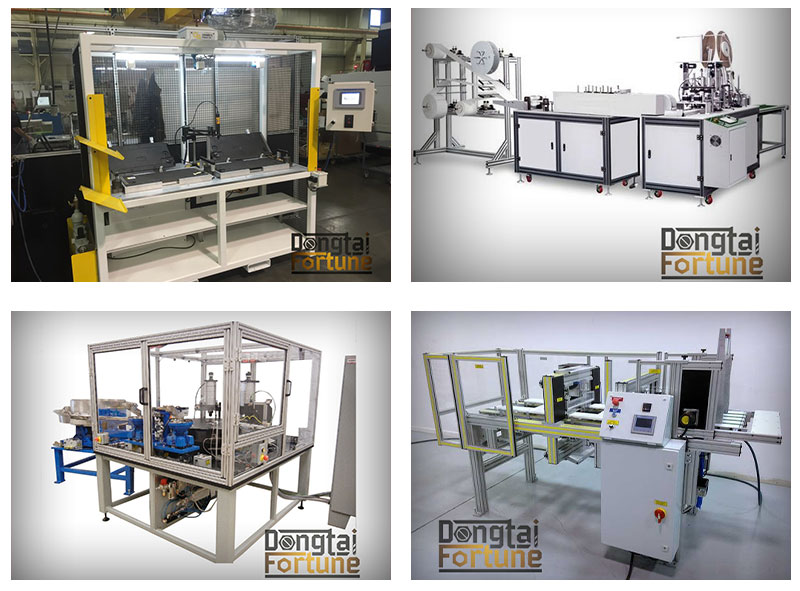 ---
Previous:
Fabrication & Welding Service
Next:
Custom Cnc Parts Service
---
Write your message here and send it to us